Application Forms are planned to open August 1st, 2017, for the 2018 National Cherry Festival Parades.
Use the form below to be added to our email list and receive an email announcement regarding 2018 early registration!
---
---
A Community Tradition
Celebrating over 90 years of tradition!
The Consumer's Energy Heritage Parade presented by Hagerty, the Touchstone Energy Junior Royale Parade, and the DTE Energy Foundation Cherry Royale Parade will all again return to the streets of downtown Traverse City for 2018.
More than 50,000 viewers will stand curbside enjoying time with family and friends while watching high stepping marching bands, larger-than-life floats, colorful walking units and royalty pass them by in historic downtown Traverse City.
Chair Policy
The National Cherry Festival, along with the Downtown Traverse City Association, is asking for your cooperation regarding placement of chairs along the Parade Route during the Festival Parades. The following policy will be enforced during all National Cherry Festival parades.
The Parade Chair Policy States: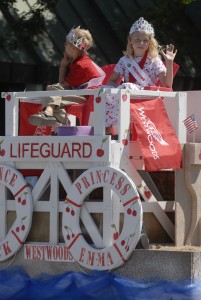 Chairs may be placed along the parade route no earlier than two hours before a parade
Chairs must be removed from the sidewalks no later than two hours after a parade
Chairs placed along the parade route sidewalks, which do not follow these hourly guidelines, may be picked up and placed out of the street right of way
Questions?
If you have any questions regarding the National Cherry Festival parades, please feel free to contact the Cherry Festival Parade Committee.
We hope to see you at the parade!