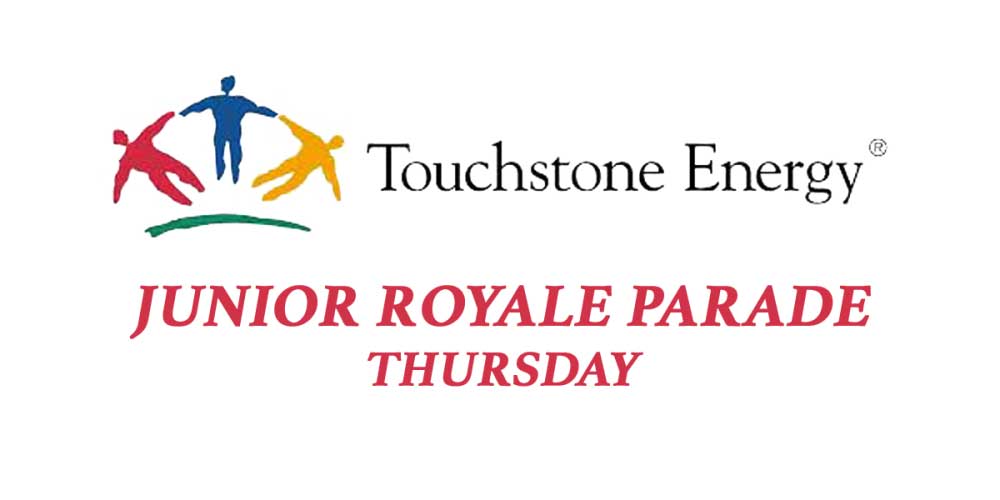 TOUCHSTONE ENERGY – Junior Royale Parade
06 July 2017 (Thursday) 6:30PM Step-Off
 TOUCHSTONE ENERGY JUNIOR ROYALE PARADE
THURSDAY, JULY 6, 2017
Known as one of the largest children's parade in Michigan, the Junior Royale Parade is highlighted with kid friendly floats, Junior Royalty, clowns, marching units and more.
Route Distance:  1 mile.
Time on route is approximately 35 minutes from start to finish.
The parade is approximately 1 hour 45 minutes from start to finish.
---
2017 Touchstone Energy Cooperatives Junior Royale Parade (Thursday) –
06 July 2017 (Thursday) 6:30PM Step-Off
FINAL CRP Lineup — Posted July 3, 2017:
2017-Touchstone-Energy-JRP-FINAL Lineup Order 20170703
2017-Touchstone-Energy-JRP-FINAL Lineup ALPHABETICAL 20170703
2017-Touchstone-Energy_Junior-Royale-Parade_FINAL-StagingMap-20170630
Did you get the MailChimp emails this year?   If not, check out this link for the latest email blast for Thursday's Parade:
http://mailchi.mp/083845c141ba/free-family-festival-fun-305869
You can use this link to "Subscribe" to our Junior Royale Participants' email list… any global information we send, we will use that system to do it.
---
Applications are CLOSED for 2017.
The application forms are planned to open August 1st, 2017, for the 2018 National Cherry Festival Parades.
Use the form below to be added to our email list and receive an email announcement regarding 2018 early registration!
---
---